Here are good Blogger XML templates.


Beautiful Beta

The site has 4 style XML template for the new Goolge Blogger.
They are 2 ~ 3 column.
Click Get this template now! in the post, you can see them.

I like the following Underwater Template among them because it is 3colum and blue.
And the width of post section is NOT FIXED!! that's good~

Underwater Template

Blue Wave Blogger XML Theme
This template is Google Adsense optimized template.

Blogcrowds
The site has many XML template for Blogger from 2 to 3 column.
Among them I like the Green Marinee :)
You can find more template in the bottom of the post. See the Template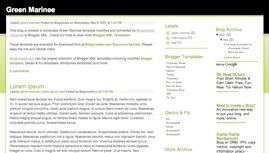 I think that the design is not good than above templates, there is a 4 colmn template!!
See the following image.